---
The latest from The Free Library of Philadelphia

October is Health Literacy Month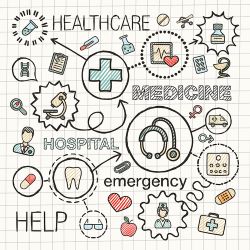 October is Health Literacy Month, a month dedicated to finding, understanding, and using health information to make informed decisions! The Free Library offers numerous ways to help you on your health journey, including programs at neighborhood libraries, online databases, books and other resources in the Free Library catalog, and a special health hub on our website. Be well, Philly!
An Update on Chronicling Resistance: The Exhibition
Officially opened to the public last month, Chronicling Resistance: The Exhibition reveals what eight local activists, cultural organizers, and artists unearthed when they dug deeply into the same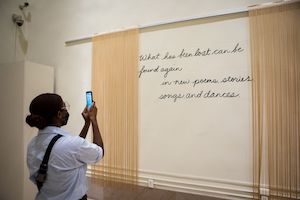 Philadelphia archives that have historically excluded their voices and perspectives. Visit this dynamic and unique exhibition throughout the Parkway Central Library from the ground floor up to the William B. Dietrich Gallery, now through December 31.
Philadelphia Poet Laureate News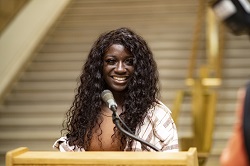 In case you missed it, the Library recently announced the newest Philadelphia youth poet laureate! Telicia Darius, a senior at Hardy Williams Mastery Charter School in dual enrollment at the Community College of Philadelphia, was selected from a competitive pool of applicants by the Poet Laureate Governing Committee. During her tenure, Darius will serve as an ambassador for poetry around the city by offering readings and workshops.

The City of Philadelphia's Poet Laureate Program has been stewarded by the Free Library since the fall of 2017.

In other poet laureate news, Philadelphia's Poet Laureate Airea D. Matthews was recently awarded an Academy of American Poets Laureate Fellowship, marking the third time a Philadelphia poet laureate has received the prestigious honor.
Free Library Author Events
Author Events this month include:
Celeste Ng (Our Missing Hearts), in conversation with Anthony Marra, on Friday, October 7, at the Academy of Natural Sciences located at 1900 Benjamin Franklin Parkway;
Anna Badkhen (Bright Unbearable Reality: Essays), in conversation with Philadelphia Poet Laureate Airea D. Matthews, on Tuesday, October 18; and
Charlayne Hunter-Gault (My People: Five Decades of Writing About Black Lives), in conversation with Dorothy Roberts, on Monday, October 24.
All events are in person and start at 7:30 p.m., unless otherwise noted.
More To Explore in October
The Free Library offers thousands of events across our system each year, some in-person and some virtual, as well as robust services and resources! Visit our website to find something that interests you! Here's a sampling of what you can expect to find this month:
Join the Free Library's Culinary Literacy Center for a celebration of Indigenous Peoples Day on Tuesday, October 11 at the Parkway Central Library. Native people from the six nations that make up the Haudenosaunee Confederacy have been growing, processing, and cooking Haudenosaunee White Corn, or flour corn, for hundreds of years, and this interactive workshop will focus on these processes as well as culinary applications from the owner of Tomahawks Indigenous Taco and Cornbread Shop. Tickets are $20 and can be purchased through Eventbrite.
The Nonprofit Job Fair will return to Parkway Central Library on October 13! Local nonprofit employers and other local support agencies will be available, so wear your best and remember to bring along a current résumé. Free professional headshots and résumé review will be offered during the fair! This job fair is hosted by the Regional Foundation Center at the Free Library and is made possible by Citizens.
Join our friends at the Rosenbach Museum & Library for Dracuthon, an overnight reading of Bram Stoker's Dracula. The Rosenbach is the home of first editions of the novel as well as Stoker's notes for Dracula

. This year, the novel turned 125 years old and what more fitting way to celebrate the King of the Vampires than an all-night reading?

This Rosenbach program will take place at the Trinity Center for Urban Life, located at 2212 Spruce Street.

The Free Library is one of the most important educational and cultural institutions in Philadelphia. While the City of Philadelphia provides public funds for the operations of the Free Library, it is through the Free Library of Philadelphia Foundation and the generosity of private funding from individuals, foundations, and corporations that the Free Library is able to offer many of the Library's incredible programs and activities that advance literacy, guide learning, inspire curiosity throughout the region, and help deliver on the promise of an equitable future for all of Philadelphia's children, families, and communities.
---
Friends Buy-A-Brick Fundraiser a Success!
At the May 28, 2022 Brick Dedication reception held in the Falls Library's garden, the Friends of Falls of Schuylkill Library celebrated the completion of their Buy-A-Brick fundraising campaign with the unveiling of the brick walkways. With live music by La Bella Nota, balloons, and refreshments, the donors of the 184 personalized bricks were feted and honored with words of thanks from Wendy Moody (Chair of the campaign), Martha Fuller (President of the Friends of Falls Library), Emily Nichols (President of the East Falls Community Council) and Caroline Davidson (former Friends President) who read The Brick Poem, which Moody wrote for the occasion. (see below).
The bricks sold quickly ($100 each) with over $14,600 raised for library projects. Each brick was lasered with the donor's choice of inscription, which included creative and endearing tributes to loved ones, pets, authors, and the library itself.
Buy-A-Brick Committee members also included Frankie Jueds, Suzanne Penn, and Mimi Mather, with refreshments chaired by Marie Filipponi and Mary Jean Cunningham. The bricks were inscribed by Lasermation Inc. and laid by Sean McCrossan.
A grateful thanks to our neighborhood donors and to our hard-working volunteers! Stop by the tranquil library garden to treat yourself to a bit of local history.

---
A Brick Poem by Wendy Moody
Inside the library, books are ordered
According to Dewey's Decimal scheme.
But, oh, out here, the bricks are random –
Enough to make Mr. Dewey scream.

Dog, grandkid, cat, and mother bricks,
Local organizations, friend, and brother bricks
Laid side-by-side along the border
In a jarring panoply of disorder.

A great-aunt is bordering a beloved pet
A street name is next to an honored Vet
It's chaos – not how Dewey arranges
Perhaps we need to make some changes?

But, no – let's analyze the reality…
Our bricks clearly have a commonality
The subjects are varied, but the sentiments the same
– Each brick having an emotional claim
Something the donor wanted to engrave
That made this subject the donor's fav…
Together the bricks show East Falls' values
What matters to us – our intrinsic core.
Sentiments and people engraved in our walk
Chosen to honor, remember, endure.

"So!" says Mr. Dewey, "our classification is done
These bricks are clearly 974.811!"
That's the Dewey number for Philly parts
And all these bricks are in East Falls' hearts

Turns out our subjects are really the same
All precious memories that we now proclaim
Will rest perpetually, perfectly organized
On the library walkway, here immortalized.


---
Friends of the Falls Library Spring Newsletter
"Spring drew on…and a greenness grew over those brown beds, which, freshening daily, suggested the thought that Hope traversed them at night, and left each morning brighter traces of her steps."
—Charlotte Brontë, Jane Eyre
Hello, Friends of the Falls of Schuylkill Library. We hope you and your loved ones have been healthy!
As we wish you a Happy Spring, we want to share some news about current Friends Board events and projects.
Spring Plant Sale
Save the date: the Friends will hold a Spring Plant Sale on Saturday, May 14, from 10:00AM to 1:00PM! The sale is headed by Suzanne Penn, the Chair of the FFSL Garden Committee and an experienced, knowledgeable and creative gardener. The sale will take place outside, in our award-winning Midvale Avenue garden. As we get closer to the sale, we will be in touch with more details. Note May 14 on your calendar – you'll be glad you did!
We know that as we are further into 2022, there are many changes related to the pandemic. As of this writing, Philadelphia no longer requires masks for indoor activities. Please look for any signs on the doors to the Library that would indicate a change, especially if masks would be required again.
Book Sale
We have news to share: we will not have a Spring Book Sale. We are as sad and crestfallen as you are. I have asked Wendy Moody, our Book Sale Chair, to write about this:
Alas, No Spring Book Saleby Wendy Moody

As much as the Friends of Falls of Schuylkill Library had hoped to hold our traditional Spring Book Sale, the popular Sale will not resume until the Fall. With the safety of our volunteers and shoppers paramount, the uncertainty of the path Covid would take necessitated us to err on the side of caution for this indoor event. By necessity, we needed to make this decision early, as the Sale takes much pre-planning – including three weeks of book intake from the public a month before the Sale, as well as another two weeks of sorting books by genre.
Branch Librarian Drew Birden let us know that the City is continuing to allow a relatively small number of persons in the meeting room at a time, understandably without a prediction as to whether this number would increase in time for this often-crowded sale. All things considered, we decided to wait.
Regrettably, we have had to cancel five Book Sales since spring 2020. Instead, to raise revenue, we initiated our "Buy-a-Brick" campaign which has been a highly-successful – and no contact – fundraiser.
We are planning a major Book Sale in the Fall, which we plan to hold the Saturday after Thanksgiving – a perfect time to browse for holiday gifts. More details will be forthcoming.
We extend our thanks to all of you who have phoned and emailed inquiring about donating books during the past two Covid-ridden years of no Book Sales. We surely understand if you need to donate your books to another facility before the Fall, but if you can hold on to them, we will gratefully accept them in October. We will announce our schedule for donations in the Fall.
In the meantime, please support our outdoor expanded Plant Sale on Saturday, May 14!
Thank you, Wendy, for this announcement. Many thanks to you and the committee who handle the Book Sales. We are looking forward to the Fall sale as we begin to get back to the events that bring us joy, and the Friends of the Falls Book Sale certainly does that.
Visit the Library!
While we are on the topic of books, let's talk about the circulation of books and other materials at our Library branch. The Free Library of Philadelphia (FLP) pays close attention to the circulation statistics for all the Branches. If a Branch is active and has strong circulation of materials (books, audio books, CDs, DVDs, etc.), the FLP knows that a community cares about its Library.
Have you visited the Library recently to borrow some books? Ask a question of the Librarians and Staff? Take out a new DVD perhaps? It is not a stretch to say that visiting the library could be one of your best experiences this week. The Free Library allows card holders to request books and materials and you can have 10 books on request at a time. It's a great way to queue up for a bestseller or new movie. Currently I have nine items on hold in case you wondered.
Recently as a part of a baby gift, some Friends and I came together to give a handmade baby quilt and 3 books. Ms. Meredith, our Children's Librarian, was instrumental in steering us to terrific books and suggested 7 titles. A few weeks ago I had a conversation about audio books with our Branch Librarian, Drew. When I asked for his suggestions, he recommended Norse Mythology by Neil Gaiman. I requested it and it's now in my car for my listening pleasure.
Head to our Falls Branch – you'll find great books, audio-books, music CDs and excellent DVDs. Currently at home we are watching "Mare of Easttown," with "One Night in Miami" to follow.
"Buy a Brick" Progress
Here's a Spring event for the Friends that will be joyful: if you have read about and/or participated in the "Buy A Brick" fundraiser, the Committee is currently working with the company who will engrave the bricks and with the brick layer who will place them in the brick walkways in the Midvale Avenue garden. The Committee which has handled this and the MANY details for it has been a cohesive group that defines dedication, organization and cooperation. If you bought a brick, please know the Committee will reach out to you with details of the unveiling.
News from the Board
As a member of the Friends Board for many years and as the President of the Board since the Fall of 2020, I continue to marvel and be grateful for my fellow Board members. We are always looking for ways to support the Falls Branch and the VIPs on the Staff. Drew as Branch Librarian, Ms. Meredith as Children's Librarian, the Library Assistants and the Municipal Guard have continued to have very full work loads during the pandemic and they continue to deserve our support and appreciation!
Here are some of our current Board initiatives and projects:
The Board will be expanding with the addition of a new position and Committee that will focus on Outreach and Community Involvement.

We are planning a community and Library patron survey.

The FFSL member application is being updated in preparation for the new membership year which begins on July 1, 2022.

We are devoting time and energy to projects that we believe will enhance the Building and your experiences there.
How You Can Help
The Friends are always in need of the helping hands of volunteers in our many endeavors and numerous projects throughout the year. If you have considered volunteering with us or would like to donate a few hours for an event, please let us know. Yes, there are some volunteer jobs that are on-going throughout the year and there are many that happen once a year (the holiday tree sale for example) or twice a year. We would be grateful for your assistance and we promise not to bug you for more help. Please reach out to the general FFSL email friendsofthefalls@gmail.com and/or the Membership email membershipffslibrary@gmail.com to let us know how you would like to participate.
Thank you!
As always, thank you from our entire FFSL Board for your support of the Friends and for the Falls of Schuylkill Library.
Martha Fuller
President of the FFSL
---
Libraries are a vital resource for people of all ages, and they will be especially critical to helping our communities get through and recover from the pandemic. On April 15, the Mayor presented a proposed city budget for the upcoming fiscal year. It is critical that libraries regain the funding that they lost during the COVID-19 pandemic. Please join us to support increased funding for the Free Library of Philadelphia!
You can make calls or send emails to elected officials and/or post on social media to remind them that library funding is no joke! Let them know why you love your library, and why library funding is so important (see suggested social media messages here).
Don't forget to use our hashtag #FundOurLibrariesPHL and tag elected officials, as well as the Friends of the Free Library. Our Friends Toolbox has all the tools you need including elected officials' contact info, sample social media posts, and a suggested script for phone calls. Make your voice heard!
---
Join the Friends of the Falls Library!
Membership is open to all individuals and organizations interested in supporting the Friends.
Click here to learn more. Click here to download an application.
---
Our Values
The Friends of the Falls of Schuylkill Library is an all-volunteer community member organization promoting the Falls of Schuylkill Library's services and supporting the preservation of the Library, an original Andrew Carnegie funded library.
• The Friends value our library for its history, its central location, and its content which is free to everyone.
• We value the Library as a community meeting place; it is the heart of East Falls.
• We value literacy and library programs that work toward it.
• We value meeting the needs of a diverse community by encouraging and funding library programs open to anyone, whether a library card holder or not.
• We value cooperation with other East Falls organizations in supporting a vibrant community.
If you have any questions please contact us Click Here
---
---

---
New Decorative Transom Installed
↑