Welcome Friends
Welcome to eastfallslibraryfriends.org the home of the Friends of the Falls of Schuylkill Library. Our website is the place to learn about all Friends events, programs, meetings, and group news.
Our Purpose
1. To promote knowledge of the resources, services, needs, and values of the library.
2. To secure the support of the community in fundraising and augmenting other services not provided in the City budget.
3. To encourage gifts of books, collections, endowments, and bequests to our branch and to the Friends.
Our Statement
The Friends of the Falls of Schuylkill Library is an all-volunteer community member organization promoting the Falls of Schuylkill Library's services and supporting the preservation of the Library, an original Andrew Carnegie funded library.
• The Friends value our library for its history, its central location, and its content which is free to everyone.
• We value the Library as a community meeting place; it is the heart of East Falls.
• We value literacy and library programs that work toward it.
• We value meeting the needs of a diverse community by encouraging and funding library programs open to anyone, whether a library card holder or not.
• We value cooperation with other East Falls organizations in supporting a vibrant community.
If you have any questions please contact us Click Here
---
Falls of Schuylkill Library September 2019 Programs
Click Here
Library Summer Hours of Operation:
Mondays and Wednesday 12:00 pm to 8:00 pm

Tuesdays and Thursday 10:00 am to 6:00 pm
Fridays 10:00 am to 5:00 pm
Saturday and Sundays Closed
Saturday hours will resume in the Fall Date TBD
---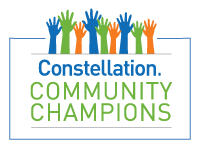 Thank you Constellation for the 500.00 Grant for our new Library Children's Story Room Rugs
---

---
New Decorative Transom Installed